BIO
Gary Petersen is quite comfortable flying under the radar and straight into the ears of those surfing below the tidal waves of mainstream rock. After all, when you spend most of your young life compiling and recording hours of music in a small suburban home, the only escape is creating a sound that's similar to none. Petersen's guitar playing can be heard on many albums from his Burlington punk rock roots playing for Allendale and theandsowill to his more recent project R&B / Pop project the Downtones featuring Melissa Walker on vocals.
Gary grew up in Burlington Ontario listening to his dad's classic rock records and picked up the guitar after being hypnotized by Led Zepplin, Jimi Hendrix, Eric Clapton and the Beatles. After countless hours of begging he finally earned his first guitar….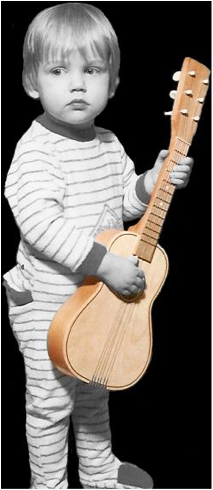 When his sister smashed the crap out of this legendary musical instrument Gary gave up on music in favor of video games. He was well on his way to becoming a pro gamer until the 3D revolution introduced him to violent episodes of motion sickness…
Gary found the courage to pick up the guitar again when he reached high school. Music became the perfect distraction from his lack of athletic ability and social skills.
All grown up and nowhere left to go Petersen has become an active member of the GTA music scene. A multi-instrumentalist, music teacher and avid music producer he is quickly grabbing the attention of the local music community. In fall of 2011, he is scheduled to release his first independently produced album with The Downtones and showing no signs of slowing down with another solo project on the way. In between his various studio projects you can also catch Gary performing with his now infamous cover band Driven at a local bar near you!